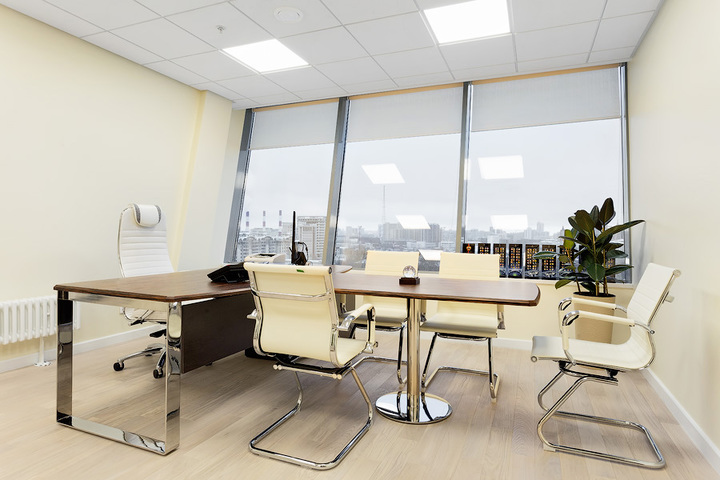 20/06/2019 - 15:46
1 комментария
Office is one of the basic components of a successful business. But to rent or to buy? Let's try to figure it out.
Rent, rent and rent again!
First of all, renting an office is an ideal solution for start-ups, developing businesses, individual entrepreneurs, and for large companies. This option allows you not only to provide mobility to businesses that need to adapt to rapidly changing economic conditions, but also to minimize costs and not spend a huge amount on the purchase of commercial real estate. Especially since a rare startup has such capital in general.
The second plus is the ability to reduce costs in difficult times. If the balance is negative at first, then you can always find something cheaper, and wait until financial matters stabilize. The tenant in this case depends on the cyclical nature of the market and aggregate demand. The reverse situation may also arise: the business is booming and expanding and as a result, the old office is no longer enough. In this case, you can safely pick up new solutions in commercial real estate class "A".
Moreover, the rental rates are fixed in the contract, which means that the tenant is protected from sharp price fluctuations in the real estate market. But this is not a panacea - a fixed rate for a long time may be disadvantageous for both parties. It is also necessary to calculate the estimated rental period and compare with the payback period of the property. If you can be firmly sure that the company will not change its location in the next ten years, then perhaps you should consider buying an office as a long-term investment.
Or maybe to buy?
Compared with bank deposits and other ways of preserving (and, possibly, increasing) the funds, commercial real estate is undoubtedly in the lead. However, the right of ownership entails the obligation to pay for insurance, property tax, which according to the new legislation is calculated not from the value of the land, but from its cadastral value. It is also necessary to hire an operating company and a private security company, pay utility bills. In the case of ownership - all costs for the maintenance of real estate fall on the owner. At the same time, an own office is in itself a promising asset, which can be either deposited in a bank in order to obtain a profitable business development loan, or, in the case of staff reduction or liquidation, be leased.
The constant increase in the cost per square meter ensures the safety of the invested capital, not to mention the fact that buying an office, in particular in Moscow, is an element of the company's prestige. This option is optimal for companies densely settled in the market, for which the purchase of commercial real estate is primarily a long-term investment.
In the case of buying office space, it is worthwhile to approach in detail the choice of the type of building, its location and other technical characteristics.
LM experts say that regardless of the purpose of real estate purchase (actual use or investment project), it is necessary to sensibly assess its liquidity and potential profitability. When deciding to buy a small office, you need to be confident in the surrounding infrastructure and stable demand for the building in the case of a subsequent sale or lease of this office, if your business grows or, on the contrary, decreases. So that the invested capital does not become immured in the concrete walls of an unclaimed object, all possible parameters for making a decision are taken into account, even if it is a question of buying a small office. But in the sought-after location, such as in Moscow City, you can safely buy offices of any size and be sure that they will be implemented in a short time and with a clear return.
And if none of above?
It's gaining increasing popularity to work fro, home. HeadHunter (hh.ru) offers about 50,000 jobs with remote employment. This way of doing business is relevant for a narrow range of companies: for advertising agencies or web studios, as well as small construction organizations that solve issues regarding the repair of a house directly at the customer's apartment, and the accounting department is outsourced. However, this niche is just beginning to develop and is not suitable for all industries.
- For new projects, the short-term rental service is well developed, and the segment of mini-offices continues to grow, which makes it possible not to incur unnecessary expenses for the maintenance of the office. This format of office spaces becomes an integral part of the overall infrastructure of the business center. This helps business owners to gradually increase rental costs in comparison with the development of the business itself. This, I believe, is very convenient, since it allows us not to think about a detailed long-term business plan, but to develop according to the principle of short-term planning. For small businesses, this is the best scenario, says Anna Vorobyeva, senior manager at amo.ru (a service for quickly choosing an office for rent and purchase).
The commercial real estate market today offers a variety of ways to optimize costs and maximize profits. Rent or purchase, but the office should correspond to the size of the company, its financial capabilities and development strategy. It is not necessary to invest a considerable amount of money in commercial real estate at the same time, you can quickly find a suitable option and immediately start working without the costs of repairs and landscaping.
Look for the best deals on our online service amo.ru.
Published by www.news-r.ru